Schedule of Crave Fest Participating Restaurants
Weekday meals? Sorted with Crave Fest. Here's where…
Have you heard? Crave Fest means two weeks of FREE FOOD!
More than 50 restaurants will be giving away over 500 free meals and beverages daily during Crave Fest! Every week day from January 27th to February 7th you can spice up your meals, on us! And let's face it, food is the best part of everyday, especially when it's free!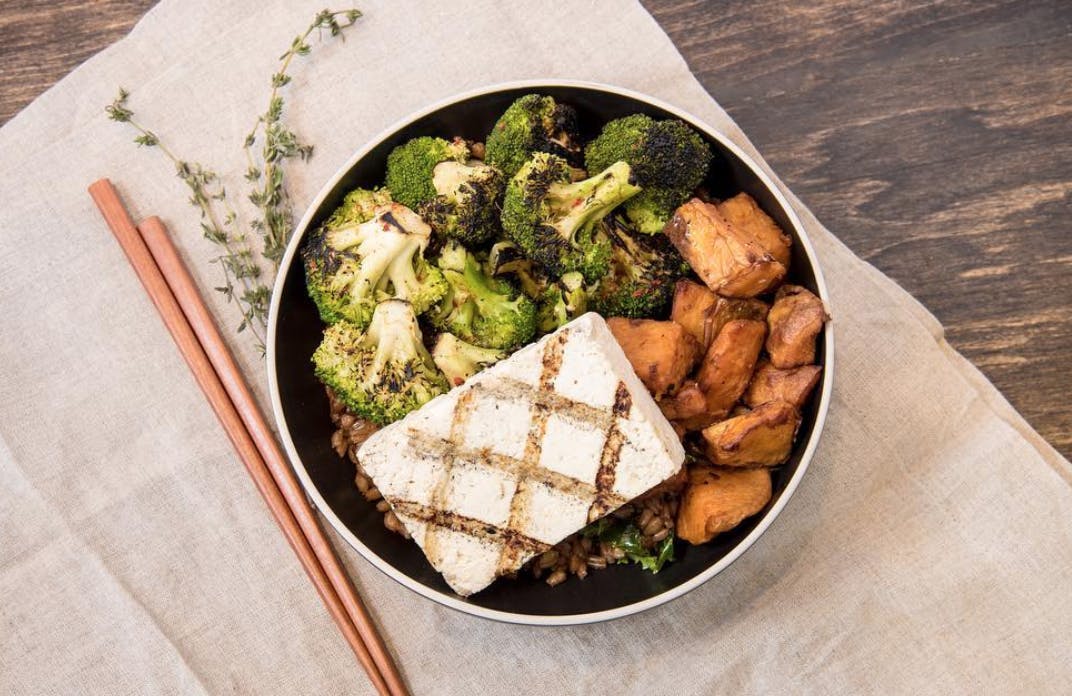 This is what you could get your hands on from January 27th to February 7th...
Yaso Noodle Bar is giving away 100 of either their Minced Chicken Noodles or Juicy Tofu Noodles per participating day
Claim quickly from A La Turka; there's 10 Lamb Gyro on offer per participating day
Crowd favorite Curry 42 has 50 Chicken or Vegetable Curries to give away per participating day
Tara Rose is giving 30 of their popular Tara Rose Burgers away per participating day (what is it about that sauce!)
Cocktail bar Headless Widow is participating, with 10 Headless Widow 8 oz Burgers per participating day
Ono Bowls has 50 berry-rich Acai Bowls to offer per participating day
Hello Always Tea is giving away 100 of either their Assam Black Milk Tea or Passionfruit Tea per participating day
Mexican Festival has 50 Chicken Burritos or Veggie Burritos to give away per participating day
Juice therapy is slinging 50 free smoothies – The NY or The OG per participating day
Health hub Som Bo is giving away 100 of either their Chicken Bowl or Tofu Bowl per participating day
Fifty deals are up for grabs for a Latte with Tapioca or any drink on Whistle and Fizz's menu per participating day
Paprika is involved with a huge 150 Falafel Pita Sandwiches per participating day (yes it contains hummus)
100 Chicken Shawarma Pita or Falafel Pita are available from Pita Grill per participating day
Chirp is giving away 100 of their sensational Chicken Sandwiches per participating day
Get in quick for Super Combo Fruit Tea or Black Sugar Milk Peach Tea from Spiritea; there's only 20 per participating day
The Nugget Spot has 100 servings of Nuggets – regular OR vegan per participating day
Fifty Chicken Burritos or Veggie Burritos are up for grabs from Mariachi's per participating day
Drink your greens at Lyfeping; they are giving away 50 Supergreen Smoothies per participating day
Plus, free coffee from The Bean and Hole in the Wall, and free Small Drip Coffee from Tiny's Giant Sandwich Shop!
Don't know where to start with all these amazing options? We totally understand, that's what the two weeks are for! Here is the full schedule of participating restaurants for the 2 weeks: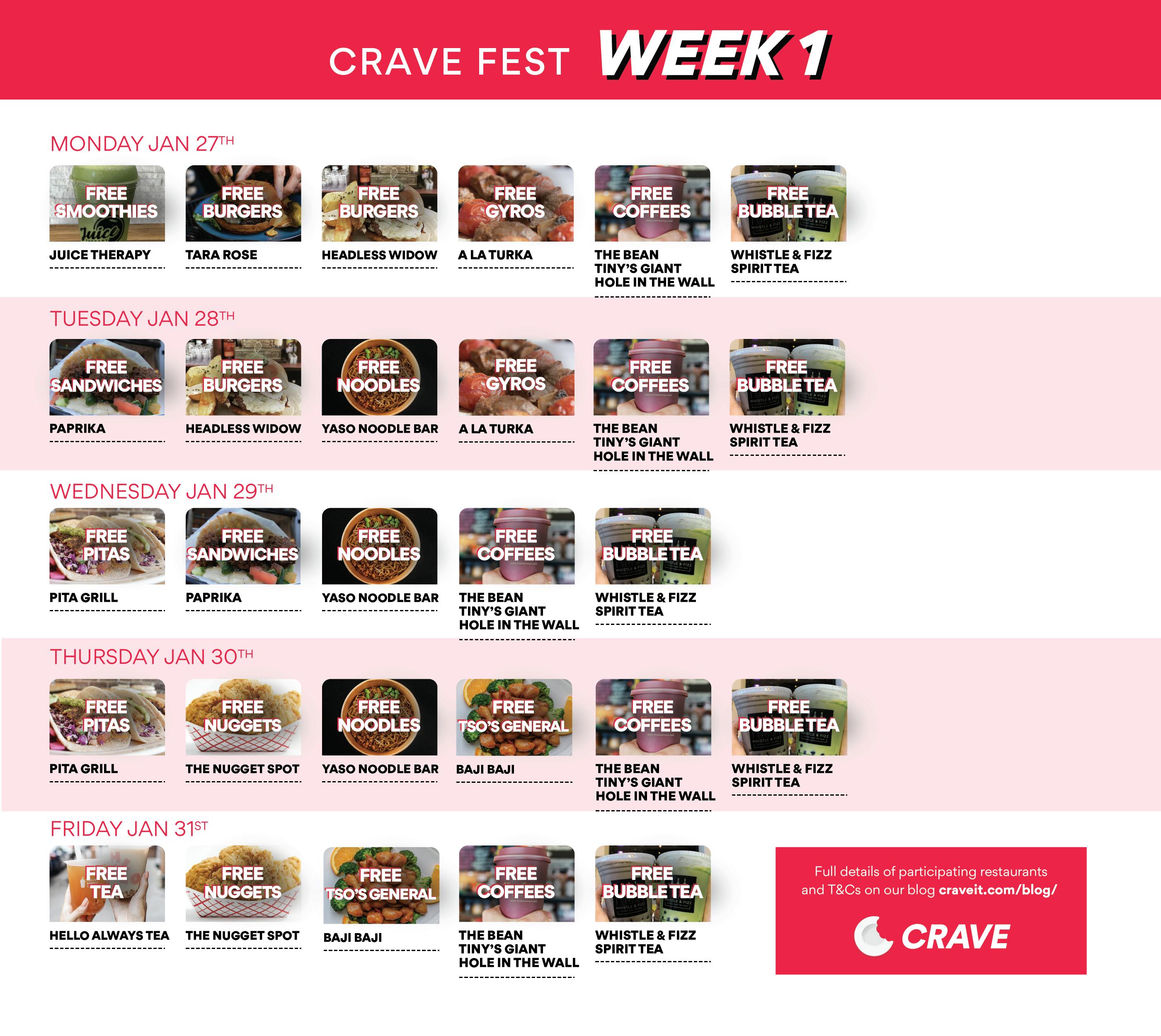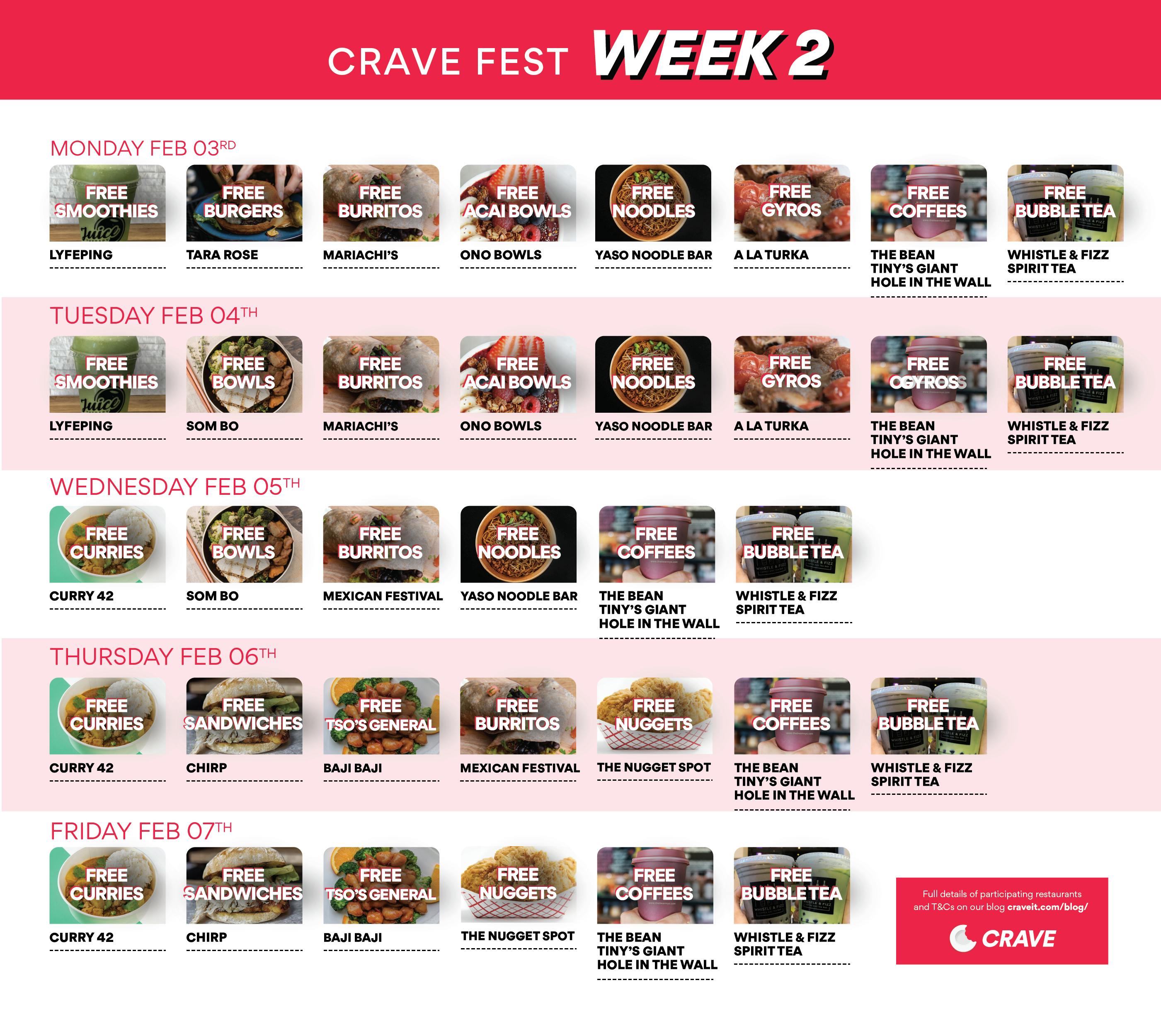 You'll find the fine print here.
Now go forth and eat for free. That's an order rather than a suggestion!
Hungry? Download Crave here.